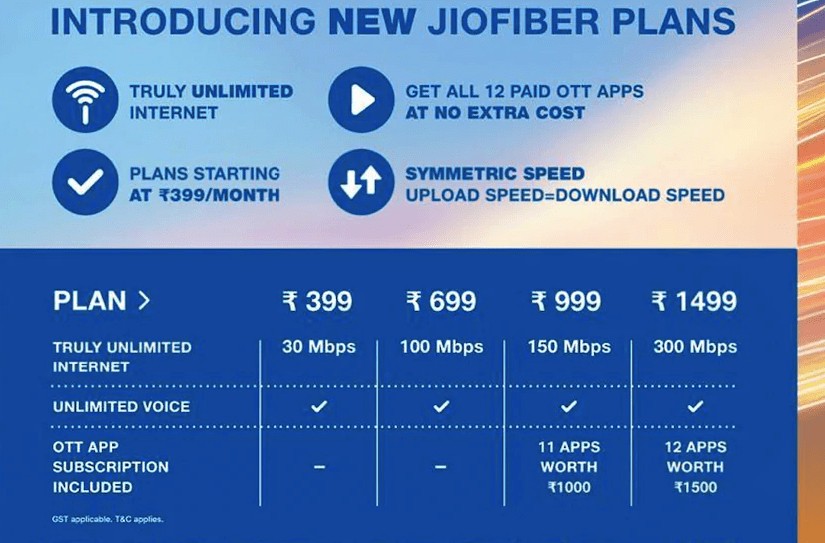 JioFiber Broadband New Plans 2023 – Hello guys, I hope you are doing well. So, finally, Jio launched its new JioFiber Broadband Plans which start from Rs 399 only with unlimited data without any FUB. Also, you will get 30 days free trial offer by JioFiber as a Welcome offer. So, keep reading more about JioFiber Broadband New Plans, JioFiber Welcome Offer With Free 30 days offer, and much more. So, keep reading.
There are 4 New unlimited data plans launched by JioFiber. The New Plans are Rs 399 Plan, Rs 699 Plan, Rs 999 Plan & Rs 1499 Plan. Also, Jio said that the download speed is equal to the upload speed that's mean you get the same speed for download and uploading which is quite good news for downloaders and uploaders as well. Also, Jio offering 30 Days free trial for Ne Users. First, try and then pay if they are interested.
Must Check – BSNL Broadband Plans
JioFiber Free trail – 30 Days Free Offer
This time Jio back with another free offer where they offer 30 days free trial offer up to 150Mbps speed to all their new users. In this trail offers you will get Speed up to 150 Mbps, a 4k set-up box with a subscription to 10 premium apps, as well as free unlimited calling. Jio said, if the customer doesn't like our service then they will disconnect the service back and refund their full amount of money according to their plans. Jio taking Rs 2500 for those who opted connection with 4k Setup Box and Rs 1500 for those who don't opt 4k setup-box. Those customers who opted for 4k setup-box plan will get a premium membership of 10 apps including Disney+ Hotstar, JioCinema, Zee5, Sony Liv, Voot, Alt Balaji, Sun NXT, Shemaroo, Lionsgate Play, and Hoichoi.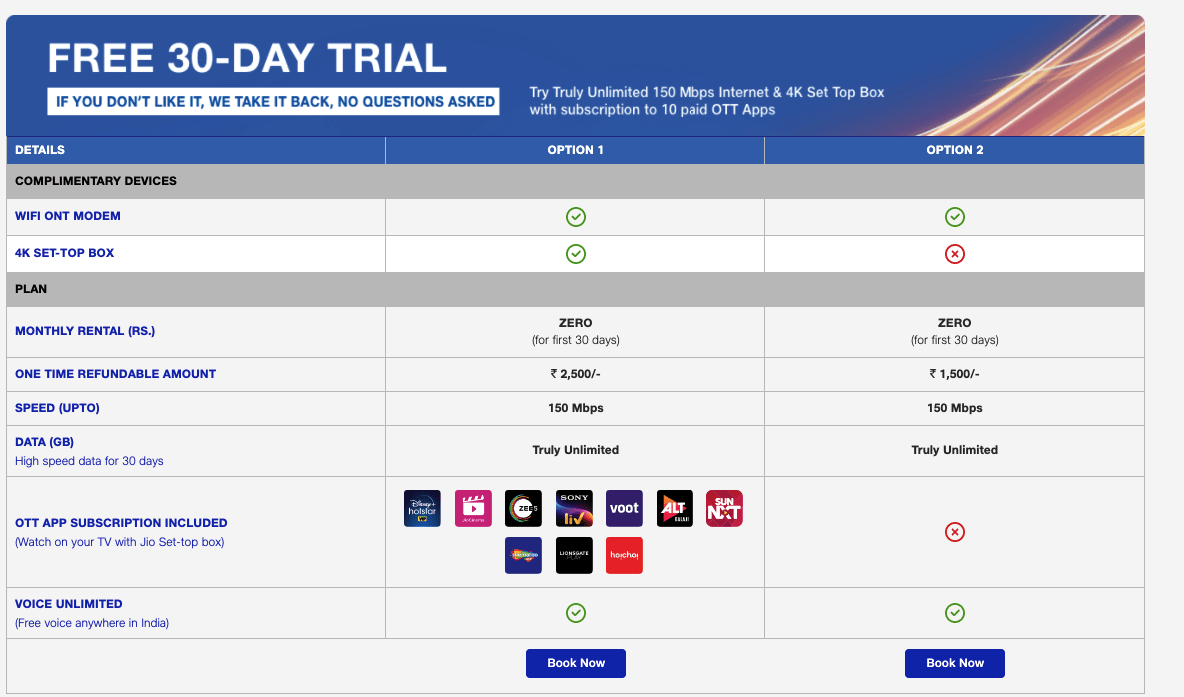 Jio will start this offer from August 1, you can easily enjoy 30 days free trial. Just you have to contact and book Jio Fiber and enjoy it. If any JioFiber user who installed Jiofiber between August 15 2020 to Aug 31, 2020, is also eligible for a 1-month free offer. So, don't miss it and enjoy it.
JioFiber New Plans with Unlimited Data-
The New JioFiber Plans just start at as low as Rs 399 only. It comes with 7 new plans which are up to the speed of 1 Gbps and monthly cost up to Rs 8499. So, check it out the full list of plans below.

So, check it out the list of all the fiber broadband Plans below;-
JioFiber Rs 399 Bronze Plan
JioFiber Rs 399 is the cheapest plan offered by Jio named as "Bronze Plan" where we get a speed of 30 Mbps to download and upload speed without any FUB. You will get a "TRULY UNLIMITED INTERNET" for 30 days. Also, it is going to be the cheapest plan ever launched by the company at this speed. You will not get an OTT Apps subscription in this plan.
Must Check – Amazon Prime Membership Offer
JioFiber Rs 699 Prepaid Silver Plan
In this plan, you will get almost the same offers as JioFiber Bronze Plan but this time, the internet speed comes with 100 Mbps download & upload speed which is very cheap as compared to any other internet service provider.
JioFiber Rs 999 Prepaid Gold Plan
In this JioFiber Gold Plan, you will get a speed of 150 Mbps downloading and uploading which is a very fast and cheapest plan as compared to other brands. But in this plan, you can also enjoy premium OTT apps for free. So, you can enjoy free movies, series, TV, etc
JioFiber Rs 1499 Prepaid Diamond Plan
In this Rs 1499 Diamond plan, you will get a speed of 300 Mbps unlimited download and uploading without FUB, also you will enjoy premium 12 OTT apps worth Rs 1500 for free.
JioFiber Rs 2499 Prepaid Diamond Plus Plan
In this JioFiber plan, you will get the speed of 500 Mbps but this time it comes with FUB of 4000GB (4 TB). But still is going to be a good deal. Also, you can enjoy extra premium OTT subscription for free with this plan worth Rs 1500.
JioFiber Rs 3999 Prepaid Platinum Plan
In this Rs 3,999 Prepaid Plan, you will get speed of 1 Gbps up to 7500 gb (7.5 TB). This is quite good options for those who want faster speed ever. It includes premium OTT apps for free worth Rs 1500.
JioFiber Rs 3999 Prepaid Titanium Plan
In this Rs 3,999 Prepaid Plan, you will get speed same as Platinum plan which is 1 Gbps but in this plan, the FUB is 15,000 GB (15TB) which is really a huge data. Same as it's also comes with OTT Premium apps worth Rs 1500. This is last final speed you get with Jio Fiber which is 1 Gbps.
Notes:
GST Additional
Customer need to activate Amazon Prime and Netflix for the first use in Jio STB.
All plans have symmetric upload and download speed.
What happened to old JioFiber Broadband users?
According to Jio, all old JioFiber Plan now discontinued, all Jiofiber users automatically migrate to new plans according to their choice. They will opt for new plans easily. So, don't worry about it.
How to Book JioFiber Broadband for your Home & Also Free 30 Days trial offer?
As I said, JioFiber welcome offer is only for New users with speed up to 150 Mbps only. Only 2 plans are available for 30 days trail offer where user need to pay Rs 1500/2500 according to it's plan. If you like their service then you can continue, otherwise you can easily cancel their service and you will get your full refund. For booking, just follow our below guide;-
First of All, Open JioFiber Broadband Official Registration Page.
Jio official Registration Page
2. Now fill up the below form and verify it via OTP.

3. Now enter your address and other basic details on the next page and done.
4. If service available at your pin code then they will contact you for installation
5. Now enjoy your high speed internet connection.