Hello Guys, We are back again with another article for you Guys. In this article, we are going to share About Paytm Payments Bank Account. Now Paytm Officially Launched Paytm Payments Bank. So, You can easily Register On Paytm Bank and Enjoy their Servies with lots of extra Benefits. So, Keep reading this article till the end. We are going to share how to Sign Up On Paytm Payment bank and How to Open Your Bank Account and all other info related to paytm Payment bank.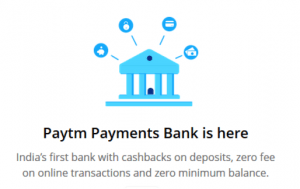 We are also going to share Paytm Payment bank offers like interest, Cashback, Interest on deposit, Fees & Charges and lots More.The parent company of Paytm announced that it plans to merge Paytm Wallet into Paytm Payments Bank. Vijay Sekhar Sharma says After Building it from concept to a strong category leader. One97 Communication soon to transfer Paytm wallet into Paytm Payments Bank. Paytm wallet business will be Started to transfer on Paytm Payments Bank !!
How to Create Paytm Payments Bank Saving Account-
First of All Download Paytm Android App from Playstore
Once Download, Open Paytm App On your device
Now Login With your ID & Password
Now Click On Paytm Payment Bank Account Button
Click on "i don't want to add nominee Now" >> Enter your Aadhaar card details and Pan card.
Now Procced to next Step
Bingo ! You have applied for Paytm bank Just wait to receive confirmation SMS.
After few Hours your Paytm Bank account open and you receive SMS that your Paytm RuPay debit card is added to your account.
Schedule of Paytm Payments Banks Fee, Charges for Savings Account:-
DESCRIPTION
FEE & CHARGES
Minimum account
balance
Nil
Interest rate
4% per year,
payable monthly
Online Funds Transfer
To another Paytm
Payments Bank
account or Paytm
wallet
Free unlimited
IMPS
Free unlimited
UPI
Free unlimited
NEFT
Free unlimited
Debit card and
Cheque book
Rupay Debit Card
Free
Annual subscription
for physical Rupay
Debit Card
Rs 100+ delivery charges
Lost card
replacement
Rs 100+ delivery charges
Cheque book
(10 leaves)
Rs 100+ delivery charges
ATM Transactions
Non-metro locations
5 free every month;
post thatCash withdrawal:Rs 20/txn
Balance check,Mini statement: Rs 5/txn
Metro locations
3 free every month;
post thatCash withdrawal Rs
20/txnBalance check,
Mini statement Rs 5/txn
Statements & Certificates
Online passbook
Free
Email statements
Free
Physical statements/
certificates
Rs 50+ delivery charges
Free for Women,
Senior Citizens
and Armed
Forces Personnel
Time Norms
for Transactions
Mobile Banking
24 hrs
IMPS
24 hrs
UPI
24 hrs
NEFT
8:00 AM – 6:30 PM
---
Must Check-
Terms & Conditions:-
Paytm Payments Bank account can be opened only by a Resident Indian

Paytm Payments Bank is allowed to hold a maximum balance of Rs 1,00,000/- per individual customer at the end of the day i.e. the combined balance of your wallet and savings accounts should not exceed Rs 1,00,000/- at the end of the day

There is no minimum balance requirement to open an account with Paytm Payments Bank. Hence, you can open an account with us even with zero balance

Paytm Payments Bank is not permitted to offer loans, overdrafts/advances against customer deposits, credit cards, term deposits, recurring deposits, PPF accounts, demat accounts etc. In case we offer such products, they will be powered by our partner institutions

Nomination facility is available for all deposit accounts
Here is What Paytm said about Paytm Payments Bank on Facebook:-
Just like a daughter grows up and goes to her new family & home, We at One97 saw it from a concept to a well grown up name today. Our company One97/Paytm will transfer your Paytm Wallet to her new home, Paytm Payments Bank — A fully Indian entity, being built to make India proud in banking space."
Some Frequently Asked Question about Paytm Payments Banks wallet:-
Q. What happens to my current Paytm Wallet?
A. It will be transferred to the Paytm Payments Bank Limited as it is, i.e. KYC Wallet as KYC Wallet and minimum KYC Wallet as minimum KYC Wallet
Q. What happens to my money in the Paytm Wallet?
A. Your money is absolutely safe in the Paytm Wallet. It is always yours and you will never lose it. If you have any balance in your current Paytm Wallet, it will reflect in your new Paytm Payments Bank Wallet
If your Wallet has been inactive for the last six months and has zero balance, it won't be transferred to the Paytm Payments Bank Wallet unless you specifically give consent for the same while logging into the app, web or by e-mail.
Q. Can I move my money to any other Bank from Paytm Payments Bank Wallet?
A. Yes, you would be able to send money to any bank account from your Paytm Payment Bank Wallet.
Q. Will the Paytm app change?
No. The user experience will remain the same as the app will continue to work as it does. You will continue to use it to pay for taxi, fuel, food, etc. the same way.
Q. What will change then?
The wallet business will get transferred to the new company but will keep running as it is.
Q. Will I get a bank account number, chequebook, debit card, etc.?
Only if you opt to open an account with the new payments bank of the company. Otherwise, your wallet will keep working as it is. The company will give you an option to open a separate account. You will earn interest on your money if you choose to open a payments bank account.
Q. Can I opt out?
In case you choose not to continue to enjoy the benefits of your Paytm Wallet, please email us at [email protected] or log in to Paytm.com/care to notify your choice of opting out and redeeming your balance by a one time transfer to your own bank account. Do indicate the account holder's name, account number and the IFSC Code of the Bank where you wish to redeem the money.
Q. Do I have to pay any charges for this transfer?
A. You do not have to pay any charges or fees for this transfer
What's New in Paytm Payments Bank account:-
As per the directions of the Reserve Bank of India (RBI), One97 Communications will be transferring its wallet business after receipt of necessary approvals to the newly incorporated Paytm Payments Bank Limited (PPBL).
Paytm Payments Bank Limited (PPBL) is 51% owned by Vijay Shekhar Sharma & 49% ownership is with One97 Communications Ltd. Paytm Payments Bank is a truly Indian company owned & operated by Indians.
Currently, all money transfers from Paytm Wallet to any Bank account is 0% for all users. Once we launch Paytm Payments Bank, we will ALWAYS allow you to transfer money from Paytm wallet to Paytm Payments Bank Account at 0% even after 31 Dec'16.
RBI last Year granted an "in-principle payments bank license" including Airtel, Vodafone, Department of posts, RIL, Aditya Birla Nuvo & one97 Communications (Paytm).
Vijay Shekhar Sharma, the chief executive officer of one97 Communication was granted in-principal payment bank license by RBI earlier this year. Vijay Shekhar Sharma Reportedly owns 51% of Paytm Payments Bank, while one97 communication has the remaining 49 percent.
Paytm Has Seen tremendous growth over the last month after the demonetization of Rs 500 & Rs 1000 old notes by our Honourable Prime Minister Shri Narendra Modi. The company crossed 155 million people are joined since demonetization of Rs 500 & Rs 1000 takes place.
Paytm said as per the direction of RBI, one97 Communication will merge its wallet business to Paytm Payment Bank as earlier.
What is Paytm Payments Bank:-
Paytm Payments Bank Can accept deposits restricted to Rs 1 lakh per customer and allowed to pay customer interest on the money that is being deposited. they can be used for either current accounts or saving accounts.
Paytm Payment Bank – What Will Happen to your Paytm Wallet:-
Paytm wallet will now be a part of Paytm Payment Bank. As per Paytm public statement, the current Paytm wallet owner can login into Paytm account and Transfer their existing balance to their bank accounts by providing account details.
Tags:- Paytm Payments Bank, How to Open Paytm Saving Account. Paytm Payment Bank Saving Account, How to Create a Paytm Payment bank account.