Do you own a car? If yes, am sure you also have car insurance. If you don't know what car insurance is then keep reading this article until the end. Here we are going to cover what is car insurance, the best car insurance companies in India, Compare car insurance in India, and much more. Also, check out What is ITR & It's the benefit.
Car insurance helps you to get financial obligations that may arise due to road accidents, fire accidents, theft, natural calamities, etc. As per Government motor policy, all motor vehicles required to carry at least 3rd party insurance cover for driving their car/vehicle on Indian roads. As of now, there are 25 companies that offer Car insurance in India.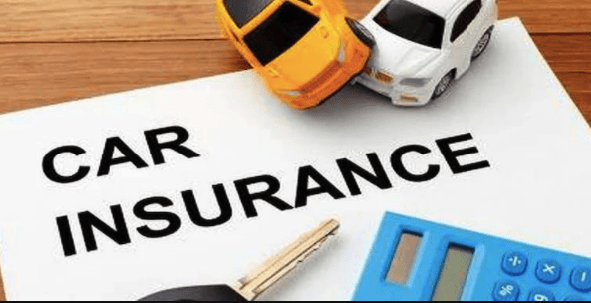 Best Car Insurance Companies in India 2023
Choosing the right car insurance is very important nowadays. As we know, currently the cost of the car is touching the sky in the market. If we don't get good insurance, it may sure harm you in the future. So, choosing the right and best car insurance is very important. We listed all the companies car insurance below. Check it out.
Top Car Insurance Companies in India with OD Claim Settlement Ratio & Network Garages
| | | |
| --- | --- | --- |
| Car Insurance Company | OD Claim Settlement Ratio | Network Garages |
| Acko Car Insurance | 72.68% | 2,000+ |
| Bajaj Allianz Car Insurance | 91.23% | 4,000+ |
| Bharti AXA Car Insurance | 88.49% | 5,200+ |
| Chola MS Car Insurance | 85.86% | 7,100+ |
| Edelweiss Car Insurance | 70.59% | 1,000+ |
| Future Generali Car Insurance | 88.56% | 2,500+ |
| Digit Car Insurance | 85.76% | 1,400+ |
| HDFC ERGO Car Insurance | 89.48% | 6,800+ |
| ICICI Lombard Car Insurance | 87.84% | 5,600+ |
| IFFCO Tokio Car Insurance | 96.44% | 4,300+ |
| Kotak Car Insurance | 81.70% | 1,300+ |
| Liberty Car Insurance | 87.48% | 4,300+ |
| Magma HDI Car Insurance | 75.66% | 4,000+ |
| National Car Insurance | 80.50% | 3,100+ |
| Navi Car Insurance | 53.10% | 900+ |
| Reliance Car Insurance | 83.81% | 3,800+ |
| Royal Sundaram Car Insurance | 94.07% | 4,600+ |
| SBI Car Insurance | 91.74% | 16,000+ |
| Shriram Car Insurance | 62.84% | 2,000+ |
| Tata AIG Car Insurance | 91.80% | 5,000+ |
| New India Car Insurance | 92.23% | 3,000+ |
| Oriental Car Insurance | 93.16% | 3,100+ |
| United India Car Insurance | 84.17% | 3,100+ |
| Universal Sompo Car Insurance | 92.45% | 3,500+ |
(*Claim Settlement Ratio For FY 2018-2019 As Per IBAI's General Insurance Claim Insights Handbook For Policyholders – 4th Edition)
How To Choose The Best Car Insurance Company In India?
Choosing the best car insurance factor depends on person to person. It's all depends on person to person depending on their requirements. For some users, a car insurance company that has the highest settlement claim ratio is best, while for some users a wide range of cashless garages is best. So, overall choosing the best car insurance depends on person to person. Check out the following factors while considering a car insurance company in India.
1. Claim Settlement Ratio
The claim settlement ratio shows how many numbers of claims done by car insurance companies during their financial year. I always prefer to choose the car insurance company on the basis of the high claim settlement ratio. For example, if a company has a 97% claim settlement ratio that's mean the insurer paid 97 out of 100 claims. So, I prefer to choose the highest claim settlement ratio insurance company.
2. Wide-Network of cashless Garages
There are a large number of cashless garages available in India that are partnered with insurance companies. While you choosing car insurance, must check the network of cashless garages of your insurance company. So, that they will help you in any garages in case of any problem during travel.
3. Customer Support Service
Every consumer expected good customer support after purchase. Choosing the best customer support service is also very important. Some companies offering 24×7 hours service whereas some offer 5 days only.
4. Availability of Add-ons
Add-ons are an extra benefit you can opt for while purchasing car insurance. Just like you can buy an extended warranty addon to extend the coverage. Add-ons are available with own-damage and comprehensive car insurance plans and can be opted for at the time of policy purchase as well as renewal.
Must Read – How to Invest Bitcoins in India
Buy Best Car Insurance Policy Online in India 2023- 
There are lots of websites available on Google where you can buy car insurance at the best price like policy bazaar, insurance Dekho, Paytm insurance, etc. Steps are mostly the same in the websites and apps. So, just follow our below step by step guide to buying the Best car insurance policy online in India.
1] As an example, We are going to visit the Policy Bazaar Website to buy a policy online
2] Click on Motor Insurance and choose to click on the Car Insurance button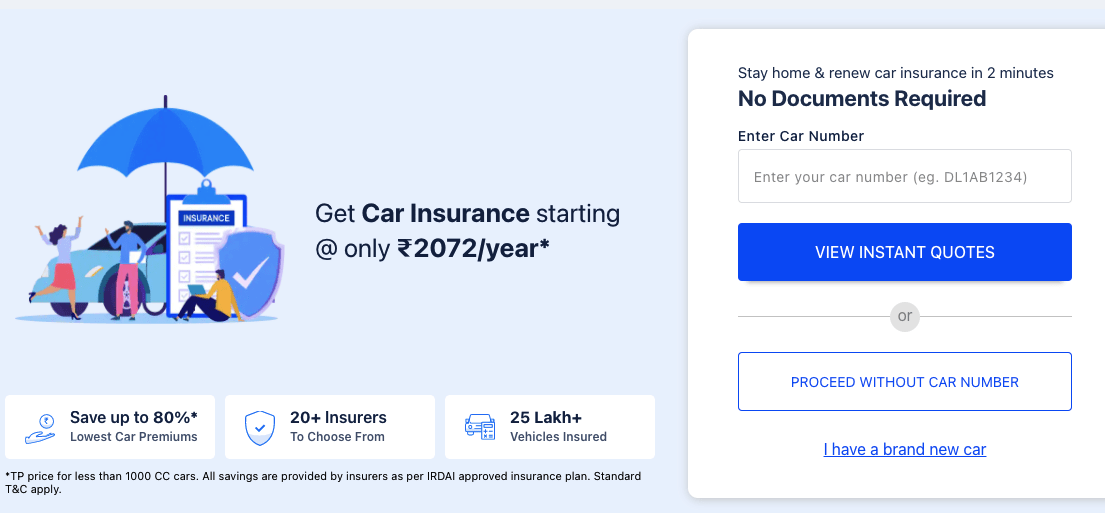 3] Now Enter Your Car Details, if you don't know then Click on Proceed Without Car Number or Click on I Have a Brand New Car and Procced
4] On the Next Page, fill up your personal detail like Name, Email ID & Contact Number
5] Finally, they will show you the list of all the Car insurance policy plans offered by different companies. you can easily compare their rates and benefits and choose according to your requirements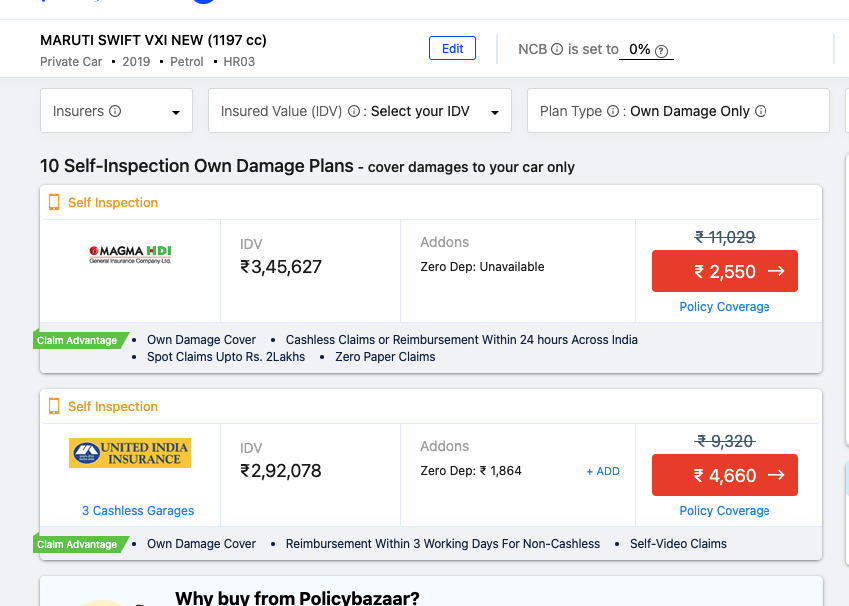 6] Now choose any plan you preferred according to your requirement and proceed
7] On the Next page, fill up some details regarding your vehicle
8] Make final payment via card and net banking & Done
9] You can easily download your policy from their website.
Types of Car Insurance Plans Offered By Different Companies
There are three different types of car insurance plans offered by insurance companies which are mentioned below;-
1] Third-Party Car Insurance
Every car owner must have at least third-party car insurance to drive your car on Indian road. Third-Party insurance only covers you against third-party damages and losses.
2] Standalone Own-Damage Car Insurance
In this Car insurance plan, it will cover insurance of only your own damage incurred by your car by a road accident, fire, thief, etc. You need to buy third party car insurance including this plan for best coverage.
3] Comprehensive Car Insurance
In this Car insurance plan, they cover your own damage + 3rd party car insurance incurred by your car by accident, fire, etc. Comprehensive car insurance offers you the maximum coverage offer. So, I recommended you to choose comprehensive car insurance for the best experience.
| | | | |
| --- | --- | --- | --- |
| Coverage | Third-Party | Comprehensive | Standalone |
| Damage/losses caused to your car due to accident | X | ✔ | ✔ |
| Theft of two-wheeler | X | ✔ | ✔ |
| Damage incurred due to fire | X | ✔ | ✔ |
| Damage/losses due to natural calamity | X | ✔ | ✔ |
| Damage to property and third party vehicle | ✔ | ✔ | X |
| Personal Accident Cover (if opted) | ✔ | ✔ | ✔ |
| Injury/ Death of Third Party due to an accident | ✔ | ✔ | X |
Cheapest Car Insurance in India 2023
As an example, we choose the Hyundai I10 petrol variant to compare the prices of all the car insurance plan. We selected the cheapest car insurance in India which is starting from Rs 13616 only for 1 year only. This plan is offered by Tata AIG General insurance. So, check out the list below.
Motor Insurance Company

Comprehensive Car Insurance Price

(without any add-on) Excluding GST @18%

TATA AIG General Insurance
Rs. 13,616
Digit General Insurance
Rs. 15,226
Royal Sundaram General Insurance
Rs. 17,793
Bharti AXA General Insurance
Rs. 20,071
Liberty General Insurance
Rs. 20,378
Conclusion-
I hope you love this article. Today we shared the best cheapest car insurance in India to buy in 2021. Also, the list of best car insurance companies in India 2021. We compare car insurance in India to find out which is a better plan for you. So, if you are looking for the best cheapest car insurance for yourself then don't forget to check out this article. Don't forget to share it with your friend and family.