buDo you want to become a streamer? and you have no too much budget for build pc of 1 lac or above then don't worry about it anymore. We are here to fix your problem and helps you to build Budget Gaming Streaming Setup that helps you to stream your gaming with 1080p 60FPS. So, don't forget to check it out below and keep reading.
To become a streamer you first need a good gaming custom PC to run your games smoothly at least on 60 FPS. Suppose You are going to stream GTA 5, PubG, etc on youtube so, for this, you at least need a good graphic card gaming pc to make your gameplay smooth. So, here is the solution. You can also buy parts from the given links. So, keep reading. Check it out Budget Gaming Laptops.
Budget Gaming Streaming Setup Parts Including Webcam-
Must Read- How to Build Ultimate Gaming Build Under 30000
---
1. AMD Ryzen 5 2600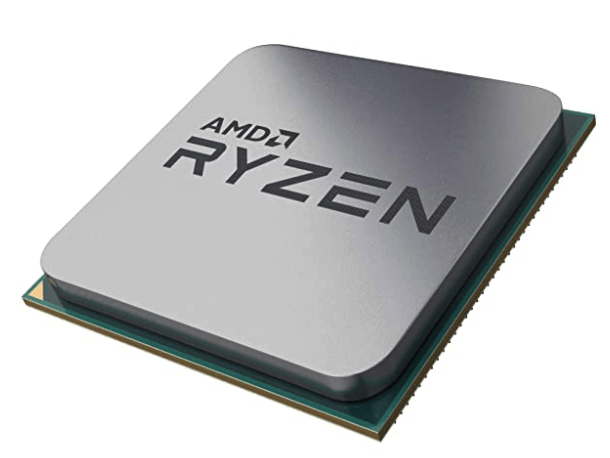 So, First of All, the most important part of the budget PC Build is Chipset. The best chipset you use, overall the best performance you will get while gaming. As we already know AMD now leads the market in terms of budget segment and performance at that price. Thats why everyone prefers AMD Processor over Intel in terms of Budget segment PC Build. Here we Choose AMD RYZEN 5 2600 which is a very powerful chipset and you will be going to enjoy a very smooth experience while gaming. Also, the price of this chipset is very decent according to its performance. So, I recommended you to buy this Chipset.
Specs-
6 Cores & 12 Threads

Base Clock: 3.4GHz, Max Boost Clock: up to 3.9GHz, 19MB Cache, TDP: 65W

System Memory Specification: 2933MHz, System Memory Type: DDR4, Memory Channels: 2

Socket: AM4, Motherboard Compatibility: AMD 300, 400, 500 series chipset based motherboards

Graphics: Separate Graphics Card is required, Heatsink Fan: Wraith Stealth, Warranty: 3 Years
---
2. MSI B450 PRO VDH MAX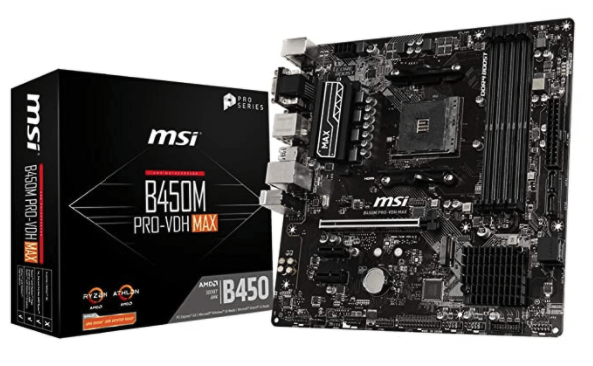 Now, Let's talk about Motherboard which is also very important for PC Building. So, here I choose MSI B450M PRO-VDH MAX which is the very powerful motherboard and comes with all the important features that every gaming pc build required. It supports all AMD Chipset So, this helps you to give the maximum performance of Chipset. Also, it is one of the most important parts of a budget gaming streaming setup pc build. It Support Upto 3466+ MHz which is too good. Even when you upgrade your parts later then you don't need to upgrade the motherboard too. So, it is going to be the best deal also for future proof. So, check it out the below Link to buy.
Specs-
AMD AM4 motherboard inspired from architectural design, with Core Boost, DDR4 Boost, Audio Boost, Turbo M.2 – Supports DDR4 Memory, up to 3466+(OC) MHz.

Turbo M.2: Running at PCI-E Gen3 x4 maximizes performance for NVMe based SSDs.

DDR4 Boost: Advanced technology to deliver pure data signals for the best performance and stability.

Core Boost: With premium layout and fully digital power design to support more cores and provide better performance.

i). EZ Debug LED: The easiest way to troubleshoot. Ii). PCI-E Steel Armor: Protecting VGA cards against bending and EMI.
---
3. Corsair Vengence LPX 16gb 3200mhz RAM
So, here we choose 16GB 3200mHz RAM because if you are going to play some heavy games then you need more RAM to make your gameplay smooth. Also, on the other side, you need to run some streaming apps and software which also consumes heavy RAM. So, overall, you need more RAM. So, I prefer to buy Corsair Vengence 16GB RAM which is enough to handle everything. Check it out below link to buy.
Specs-
TECHNICAL SPECIFICATIONS: 16 GB of size working at 3200 Mhz Speed

COMPATIBLE MODELS: Intel 100 Series,Intel 200 Series,Intel 300 Series,Intel X299, Intel i7

XMP 2.0 SUPPORT: One setting is all it takes to automatically adjust to the fastest safe speed for your VENGEANCE LPX kit.

ALUMINUM HEAT SPREADER: The unique design of the VENGEANCE LPX heat spreader optimally pulls heat away from the ICs and into your system's cooling path, so you can push it harder.

LOW-PROFILE DESIGN: The small form factor makes it ideal for smaller cases or any system where internal space is at a premium.
---
4. Inno3D RTX 2060 Super (Core of Budget Gaming Streaming Setup PC Build)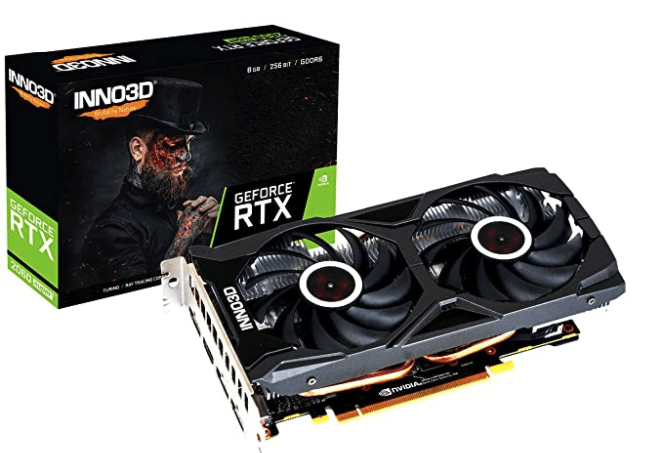 Graphics Card is one of the most important parts when we talk about Gaming PC. It helps our PC to run all the heavy games super smooth with good FPS. So, here we choose RTX 2060 Super which is too powerful and enough to handle all types of games at 60 FPS. For budget gaming streaming setup, graphic cards play a most important role. Also, it very helpful to edit your all videos for uploading content to Youtube. So, overall it is going to be the best Graphic under budget segment. You don't need to buy RTX 2080 Super or above for Streaming. You can also do everything with this graphic card like Gaming, Streaming, Video Editing, and much more smoothly. Even you can also edit your 4k videos easily. So, buy it now from the given link below.
Specs-
GeForce RTX gaming GPU's come loaded with next-generation GDDR6 memory, support for DirectX 12 features, and more. This is a graphics reinvented.

Get the highest levels of performance and the smoothest experience possible from the moment you start playing.

Get the latest NVIDIA GameWorks technologies for smooth gameplay, cinematic experiences, and revolutionary 360-degree image capture even in VR.

Plus get the performance to drive the latest displays including VR, ultra-high-resolution, and multiple monitors.

The lowest latency and plug and play compatibility with leading headsets driven by NVIDIA VRWorks technologies; VR audio, physics, and haptics let you hear and feel every moment
---
5. Adata SU800 512GB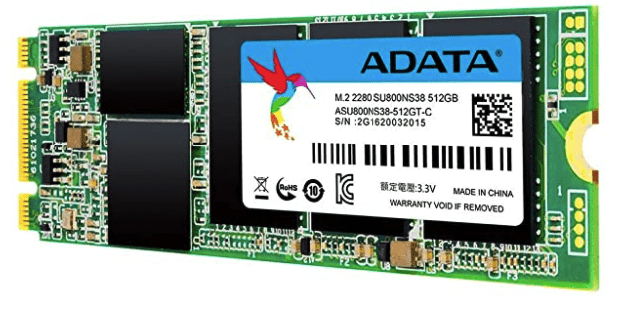 There are two different Hard drive available which is SSD & HDD. Basically, as we already know SSD is too much faster than HDD.But, overall the price of SSD is too costly but SSD plays a very important role to make your PC fast. So, I recommended you use SSD even at least 240GB because without SSD you won't get a faster experience in your PC. Nowadays, everyone prefers to use SSD over HDD and the most important part is you should install your window always in SSD drive to make your pc super smooth and faster. Buy from the given link below.
Specs-
SU800 SSD – Get your entertainment, coursework, or games anywhere, on any device. Feel the freedom of huge storage and speedy transfers to laptops, smartphones, game consoles, and more.

STORAGE – With up to 512 GB of high-speed storage for high-res photos, videos, and sound files, the SU800 Extreme Portable Solid State Drive is perfect for all your creative pursuits.

FAST TRANSFER SPEEDS – With high-performance transfers with up to 560/520 Mbps read/write speeds*, the SU800 Extreme Portable SSD lets you offload and edit files in a snap.

Featuring LDPC ECC and technologies such as high TBW (total bytes are written) and DEVSLP (Device Sleep), SU800 instantly upgrades notebook and desktop PCs with superior stability and power efficiency.

3D NAND – With 3D NAND Flash, the SU800 features higher efficiency and increased reliability compared to 2D NAND SSDs with an improved cost-performance ratio.

WARRANTY – 3 years warranty provided by the manufacturer from date of purchase.

Country of Origin: Taiwan
Must Read- How to Reduce High Ping in PUBG
---
6. Corsair VS550 SMPS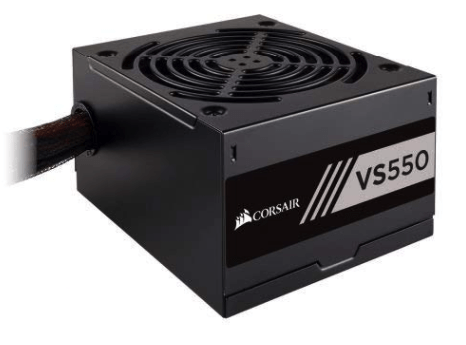 SMPS, as we called the power supply component, is also very important. If you use high performance in your Custom build so obviously we need current power according to their requirement. So, we choose Corsair VS550 SMPS which is enough to handle our PC Build Setup for the streamer. So, you can buy this SMPS from given below link.
Specs-
80 plus efficiency: Runs cooler and uses less power than non-certified power supplies

3-years warranty: Backed by corsair's legendary technical support and customer service

Black housing, cable sleeves, and connectors: Give your build the high-end look without breaking the bank

Thermally controlled 120mm fan: Quiet operation across a wide range of loads

Country of Origin: China
---
7. 1TB WD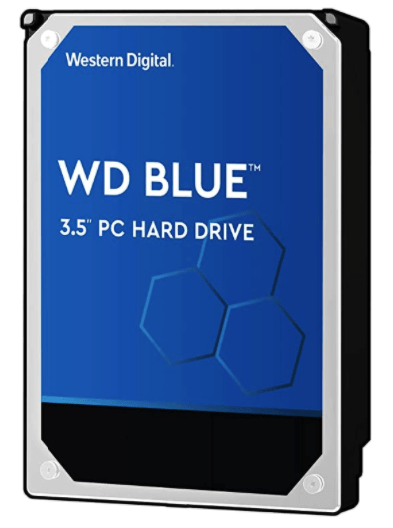 We also need HDD because SSD is not enough to store all your gaming data because of the limited size and high price. So, also you need good quality HDD Drive for better performance and size at least 1TB because nowadays gaming size is too large. If you store too many games then you can also prefer 2TB or more. So, check it out the latest offer below link.
Specs-
Upgrade and backup with ease

Future-proof storage

Improve PC performance

1TB capacity

3.5-inch internal hard drive

64MB buffer size

7200 RPM Class
---
8. Ant Esports 511MT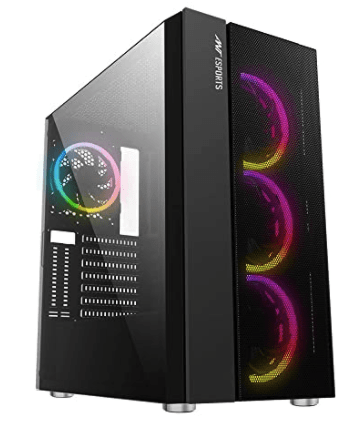 After the Setup of an internal component, we also need the best Cabinet for our PC Build because it makes your PC look cool and amazing. So, here we choose RGB Cabinet that makes your PC cool. and because of this amazing lighting, your pc looks amazing. So, I recommended you to use only RGB Cabinet if you are going to build a gaming pc. Check out the product link below.
Specs-
Mesh Front Panel: The mesh front panel offers efficient airflow for demanding systems.

Sliding Tempered Glass Panel: Showcase your build and system lighting effect through sliding tempered glass side panel.

Auto-RGB Fans: Three 120mm Auto-RGB LED fans in front are pre-installed to create an amazing lighting effect, you can control the RGB lighting effects directly from the I/O panel

Excellent Thermal Performance: Optimized airflow due to the large intakes on the front panel; Additional ventilation on the top panel adds thermal support

Expanding The Possibilities: The spacious interior fits all standing motherboard E-ATX, ATX, Micro-ATX, Mini-ITX for your gaming need.

SSD Bracket: Mount extra SSD on the backside for more storage

Fan and Radiator Support: Front – Three 120mm or two 140mm fans and up to 360mm radiator
---
9. Aopen 24HC1Q Gaming Monitor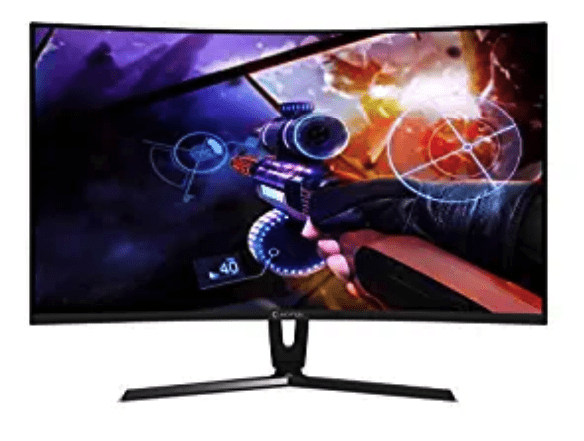 Monitor another important part of this custom build to enhance your overall experience in the world of gaming and streaming. According to the report, 24 inches Monitor is one of the best perfect sizes for gaming. So, I choose 24 inches Aopen Gaming monitor that comes with a 144Hz refresh rate and 4MS responsive time, and many more features. Check it out on the features list below.
Specs-
23-inch full HD 1920×1080 resolution 1800R curve 250 Nits VA panel display

4 MS response time, 144 Hz refresh rate

HDMI, DVI, and Display port with cables

AMD Radeon Free Sync technology

Viewing angle: 178 / 178 degree, wall mount option

Flicker-free and low blue light technology

Country of Origin: China
---
10. Cosmic Byte GK-03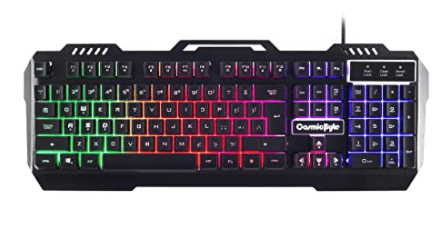 The keyboard is also very important because for gaming you need a good Gaming keyboard and mouse. So, here I choose the RGB Gaming keyboard that enhances your gaming experience to the next level. You can sync your RGB lightning with your Cabinet and mouse and it looks too much amazing. You can buy this keyboard from the given below link.
Specs-
Anti-ghosting: Anti-ghosting keys

Scratch-resistant keys: Easy to clean keys with scratch-resistant inscriptions

Backlight: Rainbow backlit keyboard
---
11. Redgear Z2 Gaming Mouse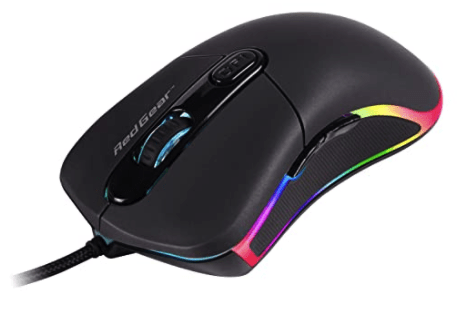 This is the gaming build so, we also need a gaming mouse that comes with extra buttons which is very helpful while playing games. We choose RGB Mouse that comes with extra features as well as amazing lighting that match your cabinet and keyboard. So, don't forget to check it out.
Specs-
The mighty 3360 gaming-grade sensor

DPI up to 12000

Easy ON-The_Fly DPI customization through software

16.8m led color option (Customization through software)

Braided cable

Country of Origin: China
---
12. Gaming Headphones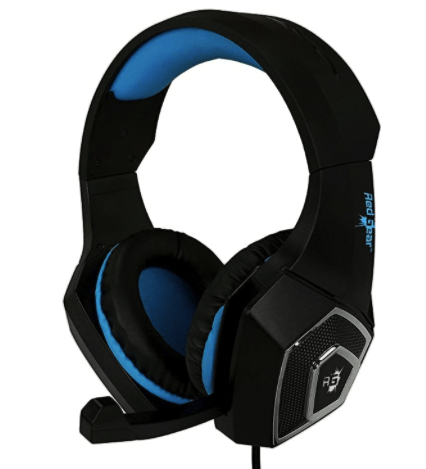 The most important thing we need while gaming is good sound because while playing games like Pubg, we need to check the sound where it is come from. Specially, we need good headphones that are comfortable for your ears and provide you the best gaming sound experience and enhance your gaming experience. That's why we recommended you to buy this gaming headphone that comes under 1000 rs only. Don't forget to check it out in the link below.
Specs-
Immersive Bass – 50mm Driver with Enhanced audio bass and clarity dramatically improves your in-game sound experience.

3.5mm audio-mic jack and USB for LED

Retractable Noise Isolating Microphone

Super comfortable build quality with extra soft earmuffs for long gaming sessions

The closed ear cup design blocks out outside distractions to keep you in the game

Both sides RGB Dazzle LED lights to make your gaming experience cooler.

COMPATIBILITY – 2x 3.5mm audio-mic jack and USB for LED designed for PC Gaming
---
13. Logitech C922 Pro Webcam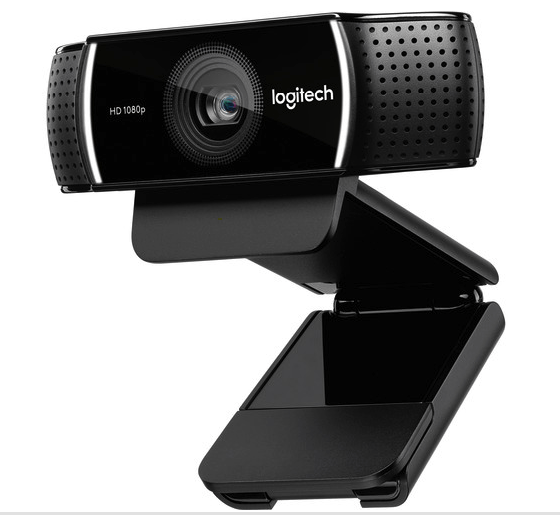 This build we made for streaming, so we also need a good webcam to do streaming of your face too. So, we choose Logitech C922 webcam pro which offers you to much HD Quality on your live stream. It is going to be the last item you need for a budget gaming streaming setup.
Specs-
Supports Full HD 1080p Video at 30 fps
Supports HD 720p Video at 60 fps
Wide 78° Diagonal Field of View
Customizable Background Replacement
Automatic Low-Light Correction
Dual Stereo Microphones
Adjustable Tripod Included
Windows and Mac Compatible
Works with Chrome and Android
Final Words-
Hope guys, do you like our budget gaming streaming setup build for streamers. We select the best cheapest component for gaming and streaming like other YouTubers. You can play all the games in 1080p with 60 FPS easily with this build. So, check it out and if you like it. So, don't forget to comment and share it with your friend.